AC Installation in San Diego
Providing Quality AC Upgrades Throughout San Diego County
Are you tired of sweltering summers and unreliable cooling? Whether your current air conditioning system is outdated and inefficient, or you simply want to upgrade to a more advanced and energy-efficient model, THA Heating, Air, & Plumbing, Inc. is here to provide you with high-quality AC installations that will keep you cool and comfortable all year round.
As a longtime local provider of HVAC services in San Diego, we know how important it is to have a reliable and efficient air conditioning system. That's why we only offer top-of-the-line AC installations using renowned brands such as Carrier, Bryant, Trane, Goodman, and more. We believe in delivering nothing short of excellence, and by partnering with trusted manufacturers, we ensure that your new AC system meets the highest standards of quality and performance.
Our team of experienced technicians is trained to handle installations with precision and attention to detail. We take into account your specific cooling needs, the size of your space, and other factors to recommend the most suitable AC system for your home or business. With THA, you can trust that your installation will be done right the first time, ensuring optimal performance and energy efficiency that lasts.
Don't let another summer pass with a subpar AC system. Contact THA Heating, Air, & Plumbing, Inc. today for your free AC installation estimate, and get ready to enjoy a cooler and more comfortable home or business. Give us a call at (858) 648-5090 or complete our online form now - Se habla español!
Should I Repair or Replace My Air Conditioner?
Deciding between repairing your existing air conditioner and investing in a new installation can be challenging. While repairs may seem like a cost-effective option in the short term, there are scenarios where opting for a new AC system is the better choice.
Consider the following scenarios when an AC installation might be the ideal solution:
Frequent breakdowns: If your current air conditioner is constantly breaking down and requiring repairs, it may be a sign that the system is reaching the end of its lifespan. Investing in a new installation can save you from the inconvenience and cost of recurring repairs.
Inefficiency and high energy bills: Older air conditioning systems tend to be less energy-efficient, leading to higher utility bills. If you notice a significant increase in your energy costs or your AC system struggles to cool your space effectively, it may be time to upgrade to a more energy-efficient model.
Outdated technology: Advancements in air conditioning technology have brought about improved comfort, energy efficiency, and smart features. If your current system lacks these modern conveniences or is unable to meet your specific cooling requirements, a new AC installation can provide you with the latest innovations in the industry.
Costly repairs: When the cost of repairs outweighs the value of your existing system, it may be more cost-effective to invest in a new AC installation. Continuously pouring money into an aging and inefficient system can result in unnecessary expenses in the long run.
Benefits of Installing a New AC System
If you are considering an AC upgrade and are on the fence regarding making the move, we are here to tell you that a new air conditioner is worth the investment. There are numerous benefits to a new system that can significantly enhance your comfort and overall indoor environment.
Consider the advantages of installing a new AC system:
Improved energy efficiency: Newer air conditioning systems are designed to be highly energy-efficient, utilizing advanced technologies such as variable-speed compressors and smart thermostats. This leads to reduced energy consumption, lower utility bills, and a more sustainable living environment.
Enhanced comfort: New AC systems offer improved temperature control, ensuring consistent cooling throughout your space. They also provide advanced features like zoning options, humidity control, and programmable thermostats, allowing you to customize your comfort based on your preferences.
Better indoor air quality: Modern AC systems often come with advanced filtration systems that help remove pollutants, allergens, and contaminants from the air, promoting healthier indoor air quality. This is especially beneficial for individuals with allergies or respiratory conditions.
Reduced maintenance and repairs: With a new AC system, you can enjoy a more reliable cooling experience and minimize the need for repairs. Regular maintenance will also be easier, as newer systems are designed for easier access and maintenance tasks.
Peace of mind: Investing in a new AC installation provides you with the peace of mind that comes with a reliable, efficient, and long-lasting cooling system. You can enjoy increased comfort, reduced energy costs, and the knowledge that your new AC is backed by warranty coverage.
At THA Heating, Air, & Plumbing, Inc., we are committed to delivering exceptional AC installations that exceed your expectations. Contact us today at (858) 648-5090 and let our experienced technicians guide you toward the perfect air conditioning system for your San Diego home or business.
Why Choose THA Heating, Air & Plumbing?
What Makes Us Different
Serving San Diego, CA Since 1992
Backed by a Warranty

Get peace of mind with our warranty-backed services.

Licensed & Insured

We make it easy for you to have confidence in the team you call.

Financing Options Available

Our flexible financing options support you however you'd like to pay.

Available for Emergency Help

Heating and cooling emergencies can't wait. Call for immediate help.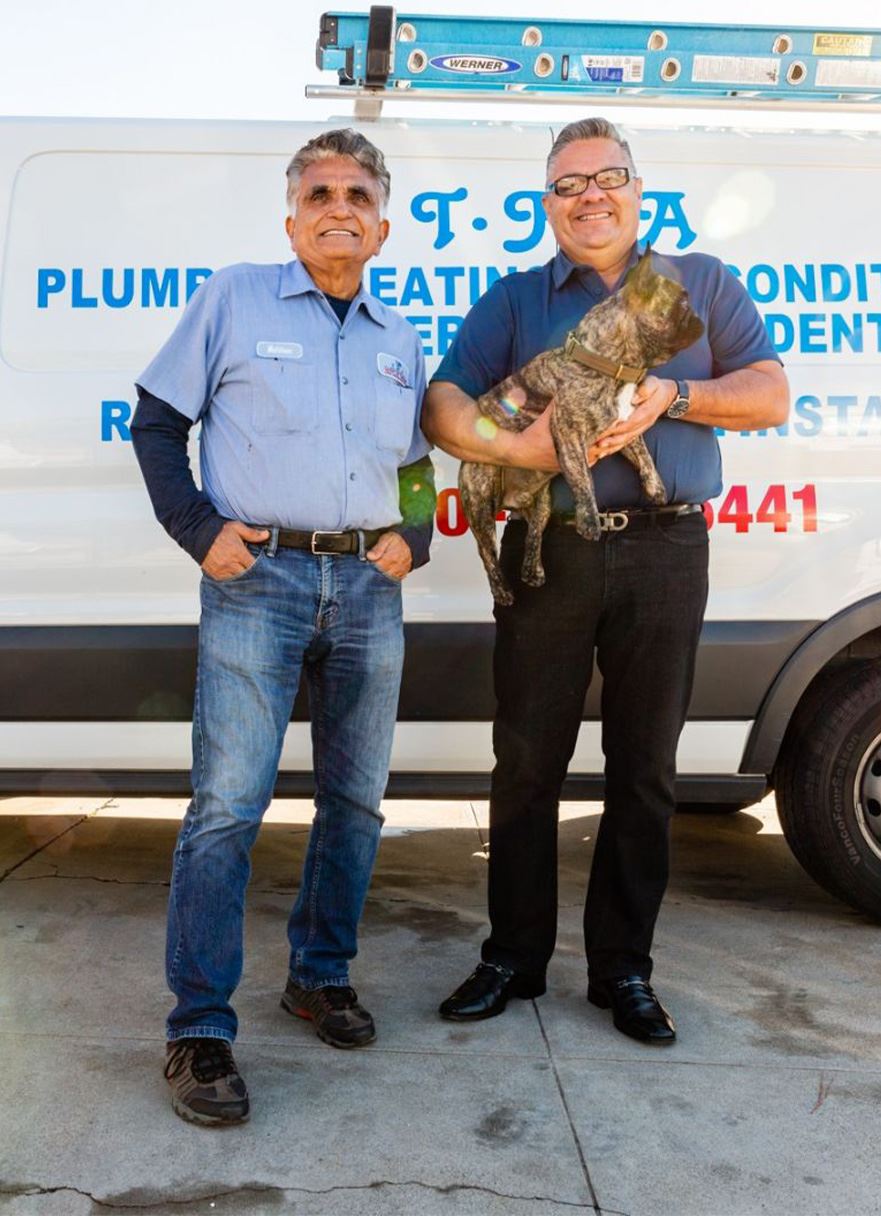 Hear From Our Happy Customers
Reviews & Testimonials
At THA Heating, Air & Plumbing, your satisfaction is our priority! See for yourself what people have to say about working with us.
"She will definitely call this company for future help."

He was prompt, professional, friendly, and reasonable. She will definitely call this company for future help.

- Tish Remsnyder

"He was on time despite a busy schedule."

Very professional and nice, explained everything he was doing and possible outcomes. I would definitely use THA again, but hopefully my daughter won't flush any more toys down the toilet.

- Brittini Boots

"Positive: Professionalism"

Great experience, I would recommend this company to anyone looking for a professional, knowledgeable plumbing service!

- Monica Albrecht