San Diego Water Heater Services
Reliable Water Heater Repairs & Installations Throughout San Diego County
We often take hot running water for granted. But when something goes wrong with your water heater, you quickly realize how much of a difference it makes to have access to hot water whenever you need it. Whether it's a morning shower or washing dishes after dinner, having reliable hot water is essential for day-to-day life in San Diego County.
Unfortunately, many people don't pay attention to their water heaters until there's an issue and the lack of hot running water becomes too inconvenient to ignore any longer. That can lead to bigger problems down the line that could have been avoided with regular maintenance and timely repairs from experienced professionals like those at THA Heating, Air & Plumbing Inc. in San Diego.
Our technicians are certified and experienced in a variety of water heater repairs and installations, including all leading brands like Rheem, AO Smith, Bradford White, and more. We understand how important it is to have hot running water when you need it most, so we work quickly and efficiently to make sure your water heater is operating as it should be. We're also available 24/7 for emergency repairs!
If you're looking for dependable hot water heater services throughout San Diego County or the surrounding area, THA Heating, Air & Plumbing Inc is here to help. Call us today for a free estimate at (858) 648-5090 or contact us online and one of our friendly representatives will be happy to assist you.
Signs Your Water Heater Is in Trouble
One of the most obvious signs that something is wrong with your water heater is when you only have cold water coming out of your faucets. However, this isn't the only indication that there may be a problem. Knowing what to look for and alerting a professional right away can make a difference between a small repair and needing to replace your entire water heater.
Keep an eye out for these common signs that your hot water heater may be malfunctioning:
Rusty or discolored water
Strange noises from the unit
Leaking around the base of the tank
Decreased hot water pressure
High energy bills
If you experience any of these issues, call a professional right away before the issue becomes worse. The team at THA Heating, Air, & Plumbing, Inc has the expertise and experience to diagnose and repair your hot water heater quickly and efficiently.
We Also Install & Repair Tankless Water Heaters
Tankless water heaters are becoming increasingly popular due to their energy efficiency and convenience. Whether you are considering making the switch to tankless or already have one and need it serviced, THA Heating, Air, & Plumbing, Inc. is your go-to source for all tankless water heater needs in San Diego.
Our expert technicians are fully certified and experienced with the installation and repair of these sophisticated systems. We will make sure that your tankless system is installed properly so you can enjoy all the benefits it has to offer without worrying about potential damage or safety hazards caused by improper installation.
If you already have a tankless system but are having issues getting it to work correctly, our technicians can quickly assess and diagnose any problems you're experiencing before making the necessary repairs. We use only high-quality parts and comprehensive methods so we can provide lasting solutions that will keep your system running smoothly for years to come.
Get in touch with us today and get a free estimate by dialing (858) 648-5090 or contacting us online. Ask about our discounts and financing options!
Why Choose THA Heating, Air & Plumbing?
What Makes Us Different
Serving San Diego, CA Since 1992
Backed by a Warranty

Get peace of mind with our warranty-backed services.

Licensed & Insured

We make it easy for you to have confidence in the team you call.

Financing Options Available

Our flexible financing options support you however you'd like to pay.

Available for Emergency Help

Heating and cooling emergencies can't wait. Call for immediate help.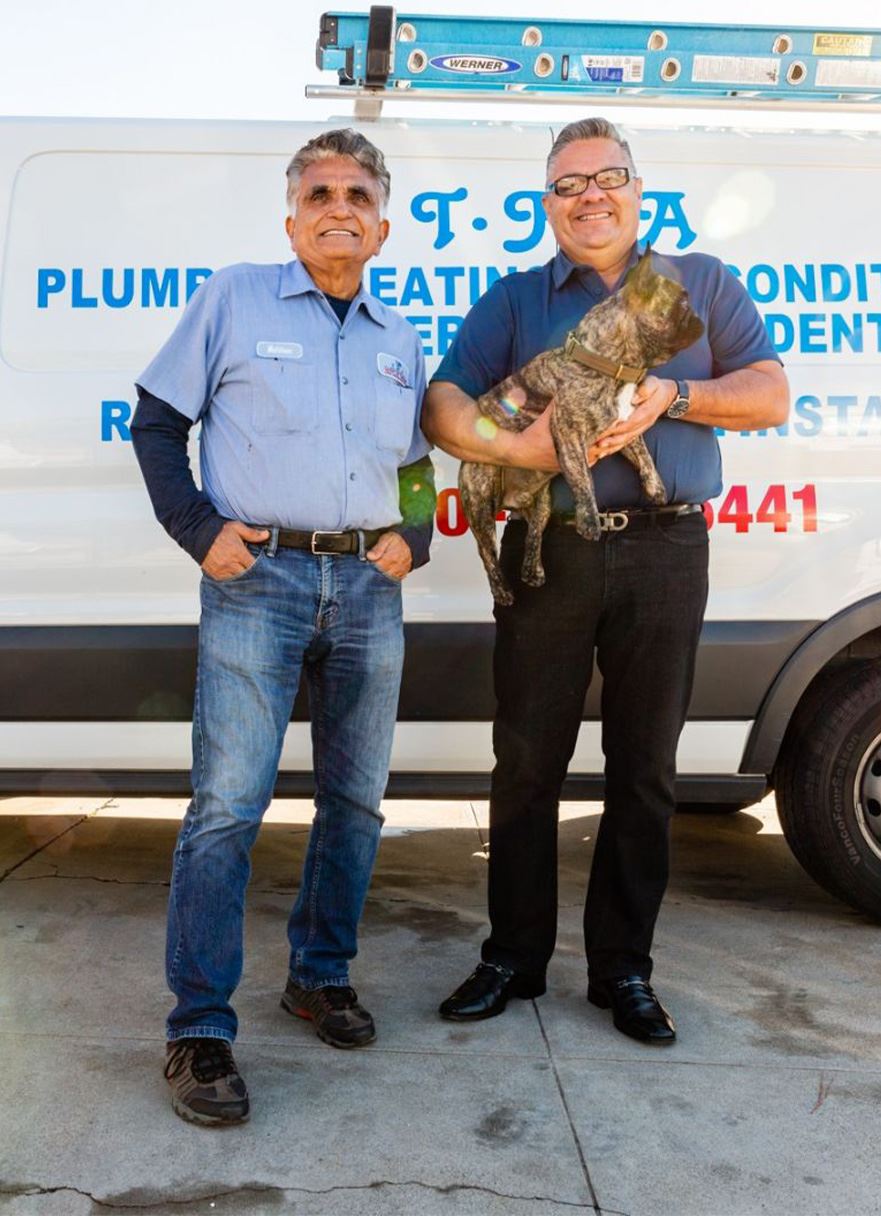 Hear From Our Happy Customers
Reviews & Testimonials
At THA Heating, Air & Plumbing, your satisfaction is our priority! See for yourself what people have to say about working with us.
"She will definitely call this company for future help."

He was prompt, professional, friendly, and reasonable. She will definitely call this company for future help.

- Tish Remsnyder

"He was on time despite a busy schedule."

Very professional and nice, explained everything he was doing and possible outcomes. I would definitely use THA again, but hopefully my daughter won't flush any more toys down the toilet.

- Brittini Boots

"Positive: Professionalism"

Great experience, I would recommend this company to anyone looking for a professional, knowledgeable plumbing service!

- Monica Albrecht