HVAC Maintenance in San Diego
Keep Your HVAC Unit Running Strong All Season Long
Proper maintenance is the key to ensuring the longevity and efficient performance of your HVAC system. In sunny San Diego, where temperatures can soar, it's crucial to have a well-maintained HVAC unit that can keep you comfortable throughout the year. At THA Heating, Air, & Plumbing, Inc., we offer comprehensive HVAC maintenance services in San Diego, designed to keep your system running smoothly and efficiently no matter the season.
Our certified technicians are highly trained to detect and resolve any issues with your HVAC system. From cleaning and calibrating the thermostat to replacing filters, inspecting for leaks, and more, our technicians can provide you with comprehensive maintenance services that will keep your unit running like new. With regular maintenance from THA Heating, Air, & Plumbing Inc., you can rest assured that your HVAC system will continue to provide reliable and effective cooling all season long.
Don't wait for a breakdown before scheduling maintenance for your HVAC system. Contact us today at (858) 648-5090 or fill out our online form to get started with a free estimate. Se habla español.
The Importance of Regular HVAC Maintenance
Regular HVAC maintenance is essential for several reasons. It not only helps to prevent unexpected breakdowns and costly repairs but also ensures that your system operates at its peak efficiency, saving you money on energy bills. Our skilled technicians at THA Heating, Air, & Plumbing, Inc. understand the significance of proper HVAC maintenance and are dedicated to keeping your system in optimal condition.
By scheduling routine maintenance with us, you can enjoy peace of mind knowing that your HVAC unit is inspected, cleaned, and fine-tuned by professionals who have extensive experience in the field. We are committed to providing high-quality service and exceptional attention to detail, ensuring that your HVAC system remains reliable and efficient throughout its lifespan.
How We Approach HVAC Maintenance in San Diego County
At THA, our comprehensive HVAC maintenance services cover all aspects of your system. Our skilled technicians are trained to perform thorough inspections, preventive maintenance tasks, and necessary repairs to keep your HVAC unit in excellent working condition.
When you schedule us for routine maintenance, we will carry out tasks such as:
System inspection: Our technicians will carefully inspect your HVAC system, checking for any signs of wear, leaks, or potential issues. This comprehensive evaluation allows us to identify and address problems before they escalate, saving you from costly repairs down the line.
Filter replacement: Regular filter replacement is essential for maintaining optimal indoor air quality and ensuring efficient airflow. We will replace dirty or clogged filters, promoting cleaner air circulation and reducing strain on your HVAC unit.
Coil cleaning: Over time, dust and debris can accumulate on your system's coils, hindering performance and reducing efficiency. Our technicians will clean the coils, ensuring unrestricted heat transfer and maximizing the efficiency of your HVAC system.
Lubrication: Proper lubrication of the system's moving parts is crucial for smooth operation and reducing wear and tear. We will lubricate all necessary components, promoting optimal performance and extending the lifespan of your HVAC unit.
Electrical system check: Our technicians will inspect the electrical connections, controls, and wiring of your HVAC system to ensure safe and reliable operation. Any potential issues or hazards will be identified and addressed promptly.
Regular maintenance of your HVAC system is essential for the optimum performance and efficiency of your unit. We recommended having your unit serviced twice a year — once before the start of the cooling season and again at the beginning of the heating season. However, it ultimately depends on several factors such as type and age of the system, usage, and environment.
Benefits of Regular HVAC Maintenance
You may be wondering why HVAC maintenance is even necessary if your unit is running fine. In a world where budgets are tighter and resources are limited, many people opt to skip routine maintenance services. However, this practice is highly discouraged and can lead to expensive repairs down the line.
Regular HVAC maintenance provides a host of benefits, such as:
Improved energy efficiency: A well-maintained HVAC system operates more efficiently, reducing energy consumption and lowering your utility bills. By keeping your system clean, lubricated, and optimized, we can help you save money while keeping your space comfortable.
Extended lifespan of equipment: Regular maintenance significantly extends the lifespan of your HVAC unit. By addressing minor issues promptly and ensuring proper operation, our services help you avoid premature system replacement and maximize your investment.
Enhanced indoor comfort: A properly maintained HVAC system provides consistent and comfortable indoor temperatures throughout the year. By optimizing airflow, cleaning components, and addressing any potential problems, we ensure that your space remains cozy and inviting.
Peace of mind: With regular HVAC maintenance, you can have peace of mind knowing that your system is in the hands of professionals who prioritize its performance and longevity. Our experienced technicians will take care of your system, allowing you to focus on other priorities.
By choosing THA Heating, Air, & Plumbing, Inc. for HVAC maintenance in San Diego County, you can rest assured that your system is running efficiently and reliably. Our experienced technicians have been pleasing customers since 1992 and are dedicated to making sure your HVAC system continues to provide reliable and effective cooling and heating no matter what time of year it is.
For more information about our maintenance services, or to schedule an appointment, don't hesitate to contact us today at (858) 648-5090 or fill out our online form for a free estimate. Ask about our senior and military discounts!
Why Choose THA Heating, Air & Plumbing?
What Makes Us Different
Serving San Diego, CA Since 1992
Backed by a Warranty

Get peace of mind with our warranty-backed services.

Licensed & Insured

We make it easy for you to have confidence in the team you call.

Financing Options Available

Our flexible financing options support you however you'd like to pay.

Available for Emergency Help

Heating and cooling emergencies can't wait. Call for immediate help.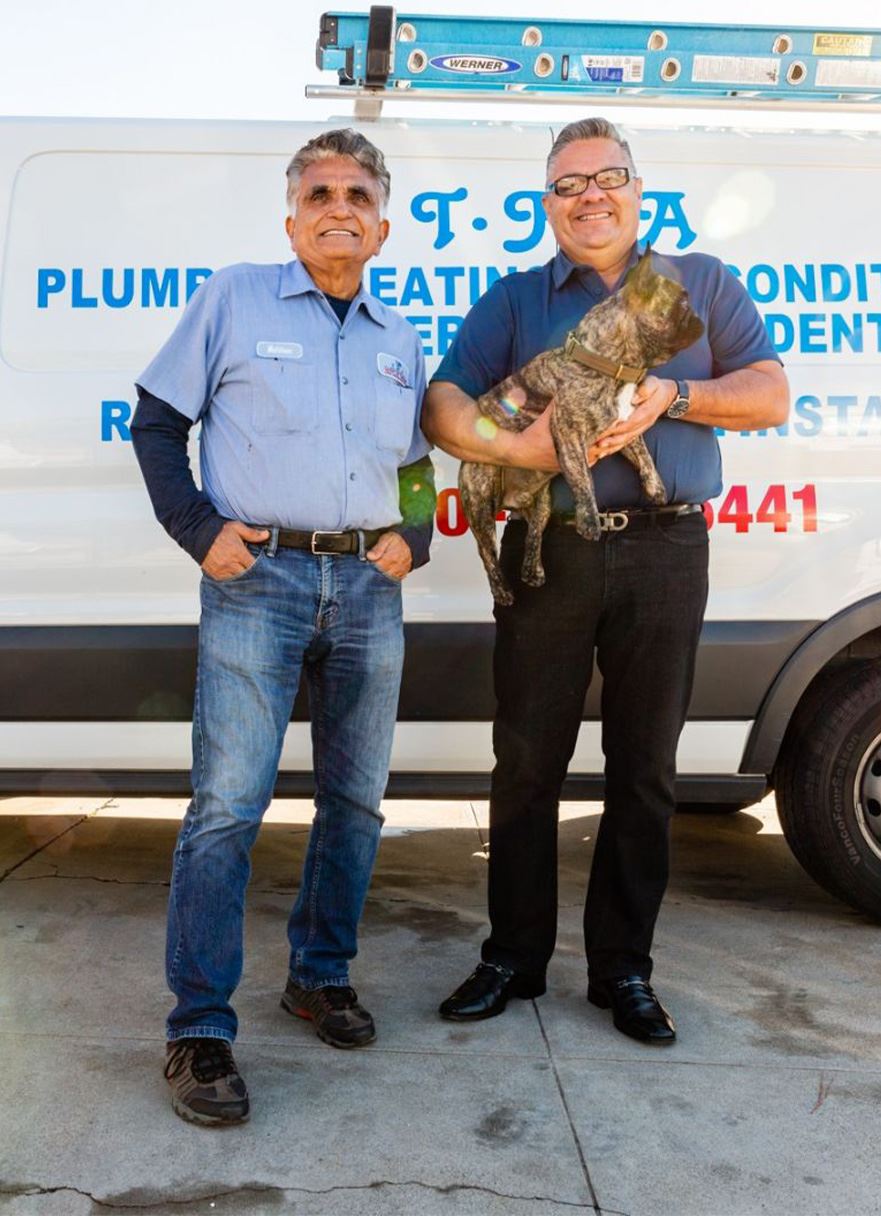 Hear From Our Happy Customers
Reviews & Testimonials
At THA Heating, Air & Plumbing, your satisfaction is our priority! See for yourself what people have to say about working with us.
"She will definitely call this company for future help."

He was prompt, professional, friendly, and reasonable. She will definitely call this company for future help.

- Tish Remsnyder

"He was on time despite a busy schedule."

Very professional and nice, explained everything he was doing and possible outcomes. I would definitely use THA again, but hopefully my daughter won't flush any more toys down the toilet.

- Brittini Boots

"Positive: Professionalism"

Great experience, I would recommend this company to anyone looking for a professional, knowledgeable plumbing service!

- Monica Albrecht