Emergency Plumbing in San Diego
Solutions to Your Plumbing Issue Is One Call Away!
Plumbing emergencies have an uncanny way of striking at the most inconvenient times. Whether it's a burst pipe flooding your home, a malfunctioning water heater, or a clogged drain causing chaos, these situations require immediate attention from a trusted plumbing team that will move swiftly to resolve the issue.
At THA Heating, Air, & Plumbing, Inc., our dedicated team of emergency plumbers is available around the clock, ready to tackle any plumbing crisis that comes your way. With our rapid response times and efficient problem-solving skills, we will arrive at your location promptly and assess the situation. Our experienced plumbers utilize state-of-the-art tools and techniques to diagnose and repair the issue, ensuring that your plumbing system is restored to proper working order as quickly as possible. You can rely on us to handle the stress and chaos of a plumbing emergency, providing you with peace of mind and minimizing the disruption to your daily life.
Don't let a plumbing emergency turn into a disaster - dial (858) 648-5090 or complete our online form for a fast response.
What Qualifies as a Plumbing Emergency?
While plumbing issues can range from minor inconveniences to full-blown emergencies, it's essential to differentiate between the two. Not all plumbing problems require immediate attention, and some can be resolved during normal business hours.
Here are some common plumbing emergencies that require urgent action:
Burst or leaking pipes: A burst pipe can result in significant water damage to your property. Even a small leak can quickly escalate, causing structural damage, mold growth, and other costly issues. If you notice a burst or leaking pipe, it's crucial to shut off the water supply and contact an emergency plumber right away.
Sewer backups: Sewer backups pose health hazards and can lead to contamination of your living space. Foul odors, gurgling sounds, slow drains, or water backups in sinks, toilets, or showers are signs of a sewer line issue that needs immediate attention.
Gas leaks: Gas leaks are extremely dangerous and require immediate action. If you detect the distinct smell of gas, hear hissing sounds near gas lines, or notice signs of carbon monoxide poisoning (such as dizziness or nausea), evacuate the premises and call for emergency plumbing services.
No hot water: Lack of hot water can be a significant inconvenience, particularly during cold weather. A malfunctioning water heater or other related issues should be addressed promptly to restore the hot water supply and ensure your comfort and safety.
Overflowing toilets: An overflowing toilet can quickly turn into a messy situation, causing water damage and unsanitary conditions. If plunging the toilet doesn't resolve the issue, it's essential to contact an emergency plumber to prevent further damage.
Don't let a plumbing emergency spiral out of control. Contact THA Heating, Air, & Plumbing, Inc. immediately for 24/7 emergency plumbing services in San Diego. Dial (858) 648-5090 or complete our online form to get a free estimate and prompt response.
Why You Shouldn't Delay Contacting a San Diego 24/7 Emergency Plumber
There may be various reasons why you're hesitant to call a plumber when something goes wrong - perhaps you're worried about cost or think the issue might resolve itself. However, delaying action can lead to more significant problems and increased repair costs.
Here's why you shouldn't wait to contact a 24/7 emergency plumber in San Diego:
Preventing water damage: Water damage can be extensive and expensive to repair. Acting promptly during a plumbing emergency can help minimize the extent of water damage and protect your property from further harm.
Preserving health and safety: Certain plumbing emergencies, such as gas leaks or sewer backups, pose health and safety risks to you and your family. Immediate action ensures the well-being of everyone in your home and mitigates potential health hazards.
Avoiding further damage: Ignoring a plumbing emergency or attempting to fix it yourself can often exacerbate the problem. Professional emergency plumbers have the expertise and specialized tools to address the issue effectively, preventing additional damage and ensuring a long-lasting solution.
Saving time and money: Timely intervention by an emergency plumber can save you both time and money. By resolving the issue promptly, you avoid prolonged disruption, extensive repairs, and the need for additional services.
Why Choose THA Heating, Air & Plumbing?
What Makes Us Different
Serving San Diego, CA Since 1992
Backed by a Warranty

Get peace of mind with our warranty-backed services.

Licensed & Insured

We make it easy for you to have confidence in the team you call.

Financing Options Available

Our flexible financing options support you however you'd like to pay.

Available for Emergency Help

Heating and cooling emergencies can't wait. Call for immediate help.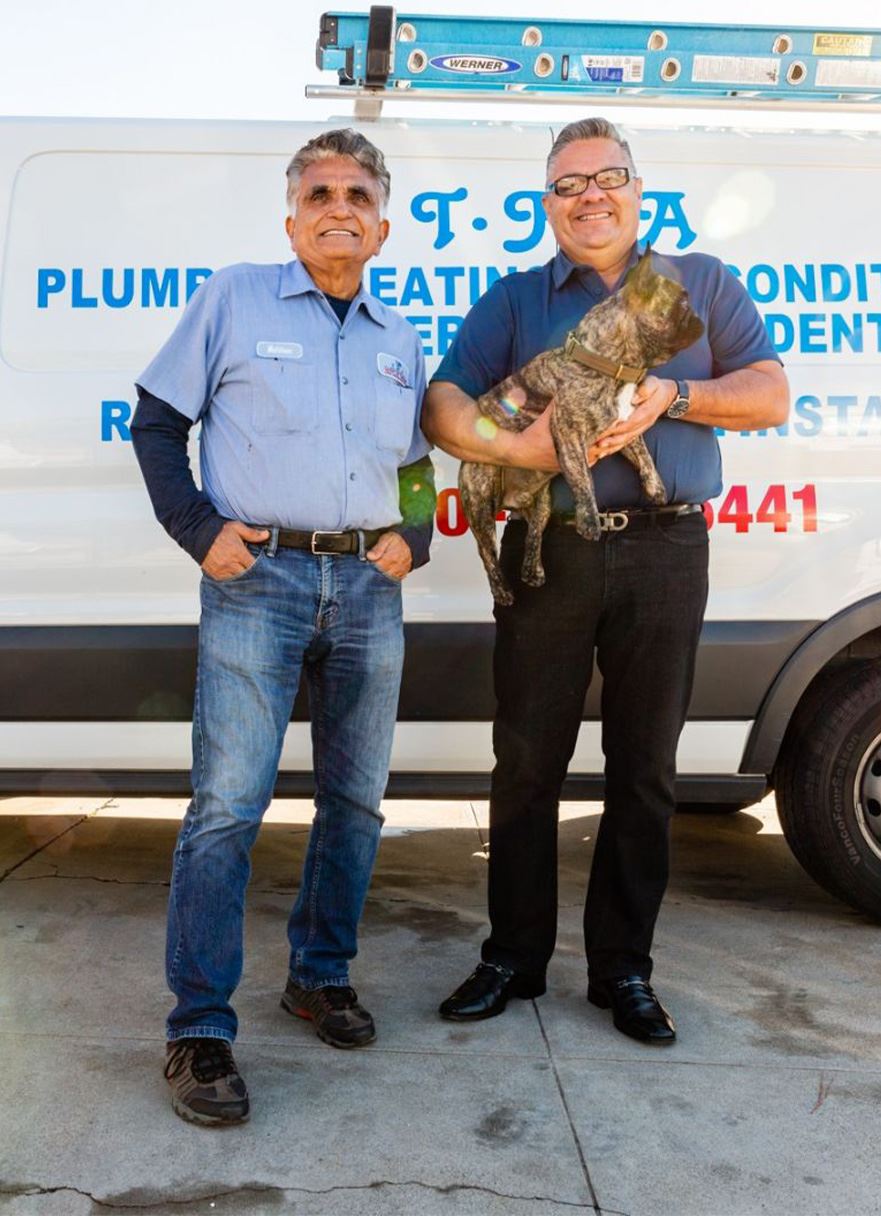 Hear From Our Happy Customers
Reviews & Testimonials
At THA Heating, Air & Plumbing, your satisfaction is our priority! See for yourself what people have to say about working with us.
"She will definitely call this company for future help."

He was prompt, professional, friendly, and reasonable. She will definitely call this company for future help.

- Tish Remsnyder

"He was on time despite a busy schedule."

Very professional and nice, explained everything he was doing and possible outcomes. I would definitely use THA again, but hopefully my daughter won't flush any more toys down the toilet.

- Brittini Boots

"Positive: Professionalism"

Great experience, I would recommend this company to anyone looking for a professional, knowledgeable plumbing service!

- Monica Albrecht