San Diego Heat Pump Services
Expert Heat Pump Repair & Installations
Heat pumps are becoming an increasingly popular method of providing indoor comfort and for good reason. Heat pumps offer efficient energy savings by utilizing the same unit to both heat and cool a home or business. In addition, they require less maintenance than other systems due to their simple design which makes them a great choice for those looking for long-term cost savings.
THA Heating, Air, & Plumbing Inc. understands how important it is that your heating system runs efficiently all year round. That's why we provide top-quality heat pump services including repair, installation, maintenance, and replacement services in San Diego County. Our technicians have extensive experience with all major brands and models so you can rest assured that your heat pump will be serviced properly every time!
For reliable heat pump services from a trusted local company call THA Heating, Air & Plumbing Inc. today at (858) 648-5090 and get a free estimate. Hablamos español para su comodidad!
Why You Should Consider Heat Pumps in San Diego County
More and more home and business owners are opting for heat pumps over conventional AC units, as the technology has improved drastically in recent years. Heat pumps work by transferring heat energy from one place to another. During hot summer months, your heat pump will expel hot air to the outside, while during winter months it will draw warmer air from outside and pump it indoors. Heat pumps offer several benefits that make them an attractive option for many property owners.
Here is a list of some of those advantages:
Lower electricity bills due to their high energy efficiency ratings
Ability to both heat and cool your space with one unit
Reduced environmental impact compared to traditional air conditioners or furnaces
Improved air quality with built-in filters that help remove allergens from the air
Longer lifespan than other HVAC systems since they require less maintenance and repairs.
At THA Heating, Air, & Plumbing Inc., our team of experienced technicians can provide you with top-notch heat pump services to install a new unit or maintain your existing one. We will make sure that your system is running efficiently and safely all year long.
We offer free estimates for all our heat pump services, so give us a call today at (858) 648-5090 or complete our online form to get started!
Common Heat Pump Problems
Heat pumps are a popular choice for many homeowners looking to heat and cool their homes efficiently. But even the best heat pump systems can experience issues over time, leading to decreased performance and potential repair costs.
Common problems with heat pumps include:
Frozen coils – When air filters become clogged or there's not enough airflow, condensation on the evaporator coils can freeze up, preventing your system from running correctly.
Low refrigerant levels – Leaks in the refrigerant lines can cause low levels of refrigerant in your system which will reduce its efficiency.
Faulty compressor – The compressor is one of the most important components of a heat pump; if it fails it needs to be replaced quickly as it could damage other parts of your system.
Dirty air filters – Clogged air filters impair airflow, causing frozen evaporator coils and reducing energy efficiency. Cleaning or replacing dirty air filters regularly will help keep your system running smoothly.
Short cycling – Short cycling occurs when the system turns on and off frequently, which can be caused by a thermostat issue or a failing compressor.
If you're having any of these issues with your heat pump, don't hesitate to contact THA Heating, Air, & Plumbing, Inc. Our experienced technicians have the knowledge and expertise to diagnose your problem quickly and provide you with an effective solution.
Why Choose THA Heating, Air & Plumbing?
What Makes Us Different
Serving San Diego, CA Since 1992
Backed by a Warranty

Get peace of mind with our warranty-backed services.

Licensed & Insured

We make it easy for you to have confidence in the team you call.

Financing Options Available

Our flexible financing options support you however you'd like to pay.

Available for Emergency Help

Heating and cooling emergencies can't wait. Call for immediate help.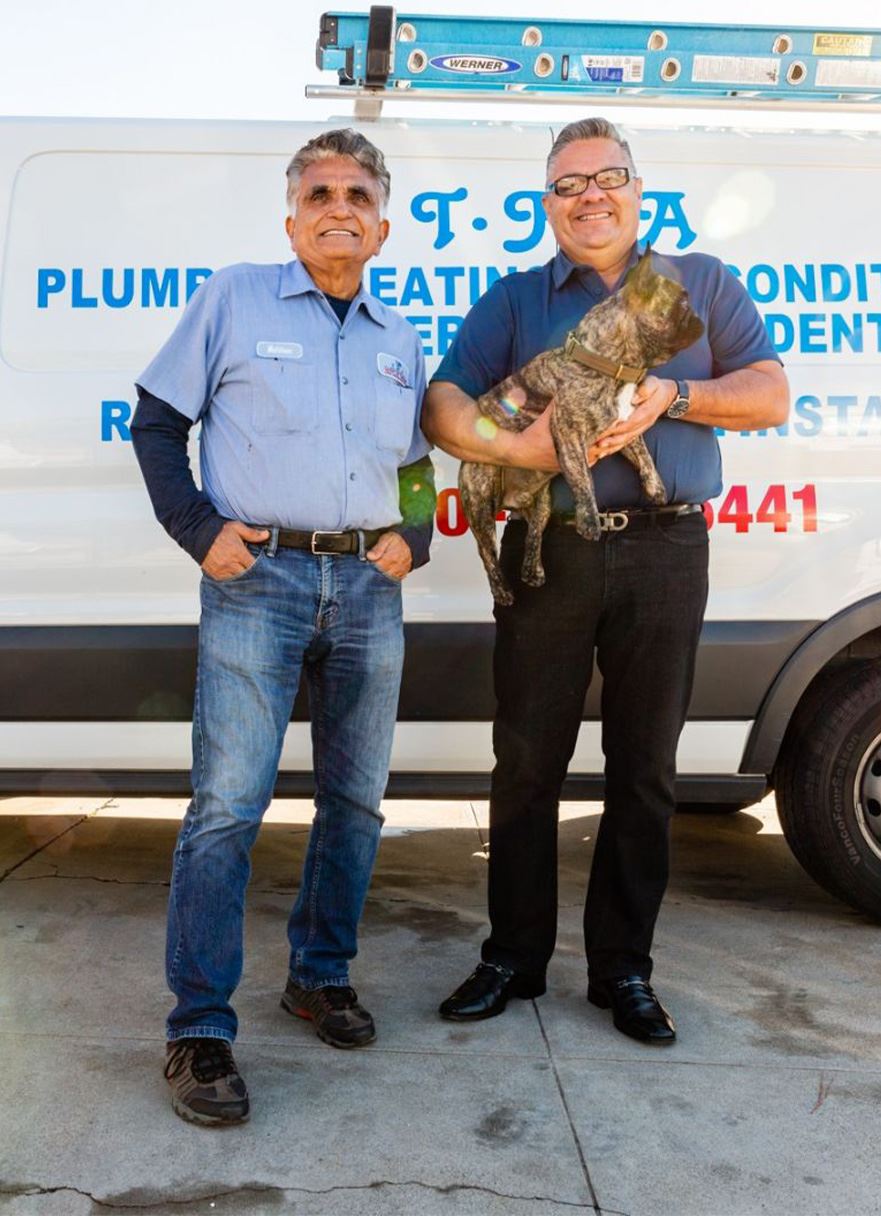 Hear From Our Happy Customers
Reviews & Testimonials
At THA Heating, Air & Plumbing, your satisfaction is our priority! See for yourself what people have to say about working with us.
"She will definitely call this company for future help."

He was prompt, professional, friendly, and reasonable. She will definitely call this company for future help.

- Tish Remsnyder

"He was on time despite a busy schedule."

Very professional and nice, explained everything he was doing and possible outcomes. I would definitely use THA again, but hopefully my daughter won't flush any more toys down the toilet.

- Brittini Boots

"Positive: Professionalism"

Great experience, I would recommend this company to anyone looking for a professional, knowledgeable plumbing service!

- Monica Albrecht